ARTISTIC ORNAMENTAL IRON WORKS
We are the only manufacturer of such heavy duty strike plates to fit your door locks, all for less than $30.00.
These strike plates are 12 inches high and made from 12 gauge steel plates. This heavy duty material will not bend or twist if a robber attempts to force your door open.
Screws are provided to fix the strike plate through the door sill and into the studs around the door frame. This prevents the door from being kicked in by the break in specialists.
Strike plates supplied and installed with your original door lock are merely fastened into the door sill. The sill shatters when kicked in and gives easy access to your home.
2-hole strike plates are made to use with a door latch set and deadbolt. Holes are offset to ensure the proper operation of the spring locking latch on the lock set. This prevents the latch being 'jimmied' with a knife or a plastic credit card.
This strike plate, used in conjunction with a proper deadbolt, adds substantial security and gives you peace of mind.
The strike plates are available in durable nickel or gold plating.
ARTISTIC
ORNAMENTAL
IRON WORKS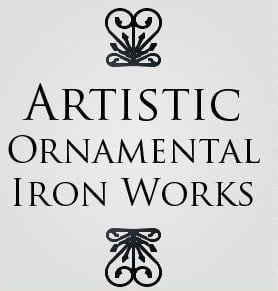 CONTACT US
Artistic Ornamental Iron Works
1406 Spruce Street
Winnipeg, MB R3E 2V7
---
Phone: 204-775-6664
Fax: 204-783-3550